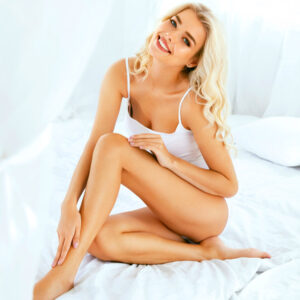 A thigh lift is an extensive cosmetic body contouring procedure that can rid a patient of excess skin and fat in the thigh region. This surgery is often performed in conjunction with related procedures such as an abdominoplasty or tummy tuck.
The Ideal Thigh Lift Candidate
The ideal candidates for a thigh lift procedure are patients who are in good physical and psychological health. People with excess fat pockets in the thigh region that do not respond to diet and exercise may be good candidates for the procedure as well. Patients with extra skin in the thigh area as a result of aging or extreme weight loss as well as those who have undergone gastric bypass surgery can also greatly benefit from the results of a thigh lift.
A thigh lift may be contraindicated in patients who smoke heavily or have certain medical conditions. Patients should disclose their full medical and dietary history prior to the surgery. The thigh lift is a very extensive procedure. Therefore, it is important that patients have a realistic expectation about what can be accomplished, the extent and location of surgical scars, and the amount of post-surgery care required.
The Thigh Lift Technique
The thigh lift surgery is typically performed on an outpatient basis under a general anesthetic. Thigh lift procedures that are more involved may require a patient to schedule a one or two-night hospital stay. The incisions made to excise excess skin and fat often depend on the specific goals of the patient. Usually, incisions are made as small as possible in a more inconspicuous location such as the fold under the buttocks. Liposuction is used to remove extra fat when necessary and the skin is resected as needed. The length of the surgical procedure depends on the extent of a patient's surgical needs.
The Thigh Lift: What to Expect
The recovery period after a thigh lift surgery can range anywhere from one to two months of limited activity, rest, and healing time. Thigh lift patients should expect to experience some degree of pain, swelling, and bruising after surgery, which can be managed with pain medication as needed. As with all major surgical procedures there are risks associated with thigh lift surgery, including surgery complications, infections, delayed wound healing, scar spreading, blood clots, nerve damage, and the like. These side effects are rare but are important to consider before choosing this procedure.
Schedule a complimentary Thigh Lift Surgery consultation or contact us for more information