Abdominoplasty – Tummy Tuck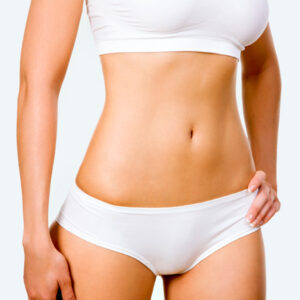 A tummy tuck is a cosmetic surgery option available to patients who would like to enhance the contour and appearance of their stomach area. A tummy tuck, also referred to as an abdominoplasty, is a major surgical procedure to remove excess fat and skin from the midsection and tighten the muscles of the abdominal wall. This procedure is an excellent cosmetic surgery option for people who wish to enhance the contour of their midsection and reduce the appearance of a protruding abdomen.
The Ideal Tummy Tuck Candidate
A good candidate for a tummy tuck is any man or woman in good physical and emotional health who is dissatisfied with stubborn pockets of excess fat and loose skin in their stomach. Women who plan to have children may wish to postpone this procedure until they are done having children in order to achieve the optimal effects. Patients who plan to lose a significant amount of weight greater than 40-50 pounds may also benefit most from postponing a tummy tuck until they have reached their goal weight. Prospective tummy tuck patients should discuss their full medical history at the consultation in order to ensure the procedure is right for them. It is important for tummy tuck patients to fully understand the risks and benefits of the procedure and have realistic expectations of the results.
After a Tummy Tuck
After a tummy tuck procedure, it is not uncommon for patients to experience swelling, tenderness, bruising, and discomfort as the stomach area heals. As with all surgical procedures, the tummy tuck does carry some risk of complication. Some of the rare, but possible, complications that may arise from a tummy tuck include hematoma, seroma, fat necrosis, infection, excess scarring, numbness, skin loss, and other more serious complications.