Microneedling – Collagen Induction Therapy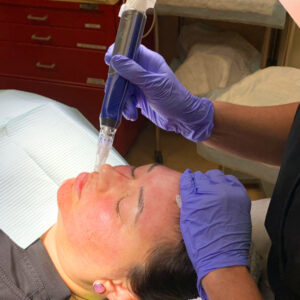 Microneedling is gaining popularity as a healthier, cost-effective alternative for skin rejuvenation. It's quickly becoming a fan favorite and we can see why – the results speak for themselves!
Everyone is falling in love with the results! It's safe, minimally invasive with little to no downtime, and helps improve the appearance of fine lines, wrinkles, and scars. The outcome is beautiful, youthful-looking skin.
Microneedling, also known as collagen induction therapy, is a minimally invasive skin rejuvenation procedure that helps minimize the signs of aging, improve the appearance of acne scars and rejuvenate aging skin.
The SkinPen microneedling device causes controlled micro-injuries that stimulate the body's natural wound healing process. The micro-injuries trigger the release of cytokines and growth factors that lead to the remodeling of collagen and elastin.