An injectable treatment for cellulite is here. FDA Approved QWO
®
Cellulite Injections.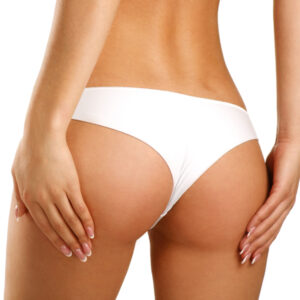 The first and only FDA-approved injectable for moderate to severe cellulite in the buttocks of adult women. QWO is injected by our aesthetic specialist directly into targeted dimples in the buttocks using a small needle.
It's not fully understood how QWO works in moderate to severe cellulite. The enzymes in QWO—called collagenases—are believed to target a structural cause under your skin. It's thought that QWO works in 3 ways: releasing fibrous bands, redistributing fat cells, and stimulating the growth of new collagen.
It can be hard to talk about something as personal as your cellulite. Our aesthetic specialist is here to listen and help you find a solution. You can take comfort in knowing that you're not alone in your struggles with cellulite. Approximately 90% of women have cellulite, no matter what they eat or how much they exercise.
What are the main benefits of QWO®?
Visible results may be achieved in 10 weeks (Individual results may vary) Women received 3 treatments 21 days apart.

Injections take as little as 10 minutes.
The most common side effects of QWO® are: injection site bruising, pain, areas of hardness, itching, redness, discoloration, swelling, and warmth in the treatment area.



Schedule a complimentary QWO Cellulite Injections consultation or contact us for more information